Termite treatment
We do recommend you get a professional inspection every few years especially if you have a home that has wood that comes into contact with the ground or if your home has areas that are difficult to inspect.
When inspecting for a termite infestation there are a few things you will be looking for such as mud tubes, damaged wood and/or live termites.
Mud tubes. Subterranean termites will often make their nest in the soil (moisture source) and then build highways called "mud tubes" that run vertically or otherwise to connect the nest to a wooden food source. Mud tubes are a definite sign of termite infestation, but the absence of mud tubes does not mean that no infestations exist, since there are other ways that termites reach food sources.
Damaged wood. Wood with sustained termite damage might look "crushed" at structural joints. If you tap the damaged wood with the end of the screwdriver or knife, you will hear a dull thud. Wood suspected of termite damage can be further inspected by probing the surface with the screwdriver or pocket knife to expose tunnels. Subterranean termites excavate tunnels that run parallel to the grain.
Piles of wings. Before swarmers enter the next stage of development, they will shed their wings which are often left in scattered piles near windows or light sources.
Buckling or bubbling paint or brittle drywall.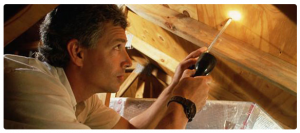 Potential Problem Areas
These are the areas you will need to inspect very closely for signs of termite infestation. Keep in mind that termites are typically found at or near ground level.
Wooden elements of construction in basements and crawl spaces
Window sills and frames (particularly in the basement), support posts, sub floors, supporting piers, joists, and wooden decks or porches.
Areas where concrete elements meet wood, such as in steps, slabs, or porches
Cracks in brick construction, expansion joints, or cement where termites might have gained entry
Wood piles and debris near the foundation including tree stumps, exterior basement window and door frames, and fence posts.
The following pre-construction and post-construction soil treatment methods are most effective for subterranean termite control. If you have other termite problems, including Formosan, Dampwood, or Drywood termites, you may need to follow more extensive control methods such as fumigation.
Pre-Construction Preventative TreatmentThe best way to protect a structure against termite attack and damage is to pre-treat construction elements before construction has been completed.
Exposed wood can be treated with an insecticide/wood preservative such PREMISE or WAZARY SC. These products will last the life of the wood.2. Foundational walls and piers

can be treated with a termiticide at the soil level:
Dig a trench in the soil adjacent to the structure, 6 inches deep by 6 inches wide.
Soak the soil on both sides of the foundation walls at the rate indicated on the product label. Using a 5 gallon bucket is easier than a sprayer for this task.
Loosen the soil on the bottom of the trench with a spade for additional penetration.
Replace the soil in the trench, being careful to mix each shovelful with the diluted termiticide.
Concrete Slabs should be treated with Termiticide. This job is much easier if the treatment is applied under the slab BEFORE it has been poured. If the slab is already in place, the chemical can be injected through a drill hole, though this may require the help of a professional.
Post-Construction Preventative Treatments
Begin with an inspection to determine problem areas where attack is likely to occur. It may pay to have a professional termite control company assist you with this.
Basements can be treated by drilling holes through the floor at evenly spaced intervals and injecting the termiticide into the soil.

3. Crawl spaces may also be treated with termiticide using the trenching method:
Dig a narrow trench (6 inches wide by 6 inches deep) along the inside and outside walls foundation and around pier and chimney base (the trench does not need to go any deeper than the footing).
Soak the soil on both sides of the foundation walls at the rate of 4 gallons (5 litre) per 10 linear feet. Using a 5 gallon bucket is easier than a sprayer for this task.
Loosen the soil on the bottom of the trench with a spade for additional penetration
Replace the soil in the trench, being careful to mix each shovelful with the diluted termiticide.
Termite Prevention and Control with Bait Systems

There is no preventative or control method that can guarantee that you will never get termites. However, you can greatly reduce the chances of termite invasion and manage current infestations by installing an appropriate Termite Baiting System, in combination with traditional termite control methods such as soil treatments, moisture control, foaming, removal of competing food sources, etc.
Step 1) Survey the Property
Take a walk around the perimeter of the home, taking note of any conditions that are conducive to termites. You'll want to look for:
Areas where wooden construction elements contact soil
Puddles, pools, or excessive moisture caused by shade or   air conditioner unit condensation
Trees, shrubs or other foliage within three feet of the home
Hollow tile walls
Areas where stucco siding meets the concrete or soil
Foundation cracks in the concrete, where the crack exceeds 1/16″
Debris piles such as discarded wood or other cellulose material near the structure.
Step 2) Place the Termite Bait Stations
In most cases, termite bait stations should be place around the perimeter of the structure at intervals of approximately 8 to 10 feet. If areas exist where one or more of the above conditions are present, station placement should be more concentrated (stations placed at closer intervals).
Dig holes about 6 inches deep, watching for water pipes, and gas or utility lines.
Stations should be installed at a distance of about 1 to 2 feet from the foundation. This will help avoid any previous or subsequent barrier and soil treatments.
When replacing the dirt around the station, be sure it is packed tightly to avoid air pockets.
The lip of the station should be flush with the ground.
Using a hand sketched map of your home, mark where each station is located so you will be able to find them later.

Step 3) Monitoring with Pre-Bait
Monitoring is critical during all stages of the baiting process. At this stage, each bait station should contain an inactive "pre-bait" – usually a piece of wood or inspection cartridge.  Once you have placed inactive bait stations containing a piece of wood or inspection cartridge in the ground, it will take time before the termites actually find the bait, since they are not immediately "attracted".
Research has shown that it can take a termite colony between 1 to 5 months to find a bait station in the southern states, and up to a year or more in northern states. Patience and consistent monitoring (about every 3 months) key.
The pre-bait should be replaced with active bait as soon as it shows signs of feeding: mud tubes in the station, live or dead termites…
Putting out the toxic bait too soon would result in killing off the very workers needed to establish the feeding cycle.

Step 4) Monitoring with Active Termite Bait
Once the active bait is in place, continue to monitor the bait station every 3 months, keeping a record of when you have checked them, and any observations.
You are looking for feeding activity. As long as feeding activity is evident, the active bait may be left in place.
Once feeding activity has stopped however, it should be assumed that the colony has been eliminated, and the active bait may again be replaced with a monitoring device such as a piece of wood or inspection cartridge.

Step 5) The process is then repeated with monitoring the pre-bait on a monthly basis and replacing with active termite bait as needed to prevent and manage future infestations.
We provide FREE INSPECTION within Klang Valley, Please call or Whatsapp 019-3955611